8 Best Places to Visit in Japan
This guide introduces sightseeing spots that we would love for you to visit when you come to Japan. It presents a vast range of recommended spots including the elegant old capital Kyoto with its numerous shrines and temples; Nara, with its sense of history; and Osaka, a city that is bursting with shopping, entertainment, and gourmet eating. The same spot will feel different depending on the time of day or the season in which you visit. These spots have many fans who become captivated by their charms, visiting them again and again. One after the other, new Japan connoisseurs are brought into the world. We hope that this guide will become your navigator for fun sightseeing.
Kiyomizu-dera Temple
Kyoto>Gion, Higashiyama, Around KitaShirakawa
Address:

1-294 Kiyomizu, Higashiyama-ku, Kyoto-shi, Kyoto

MAP
Traffic access:

◆ From JR Kyoto Station: Kyoto City Bus (Kyoto Transportation Bureau) route 206 bound for Higashiyama-dori/Kitaoji Bus Terminal or route 100 bound for Kiyomizu-dera/Gion/Ginkakuji. 10 minutes' walk from Gojozaka Bus Stop / Kyoto Bus (Saturdays and holidays only) route 18 bound for Ohara. 10 minutes' walk from Gojozaka Bus Stop ◆ From Hankyu Kawaramachi Station (Shijo Kawaramachi) and Keihan Gion-Shijo Station: Kyoto City Bus (Kyoto Municipal Transportation Bureau) route 207 bound for Tofukuji/Kujo Shako. 10 minutes' walk from Kiyomizu-michi Bus Stop / Keihan Bus routes 83, 85, 87, 88. 10 minutes' walk from Kiyomizu-michi or Gojozaka bus stops. ◆ Keihan Line: Approx. 25 minutes' walk from Kiyomizu-Gojo Station
Business Hours:

Open to the public 6:00am-6:00pm, Open to the public: Summer 6:00am-6:30pm *Open in the evening for special events (Seasonal event periods change every year, so please check the homepage for more information)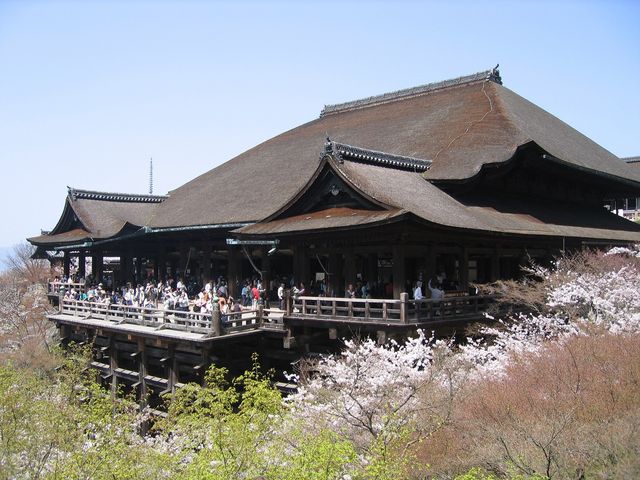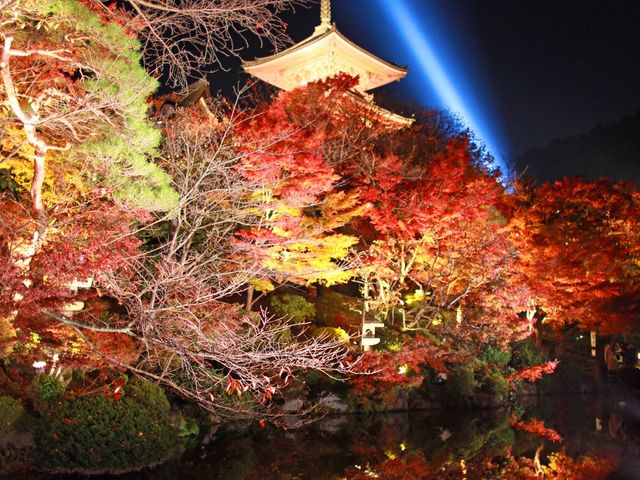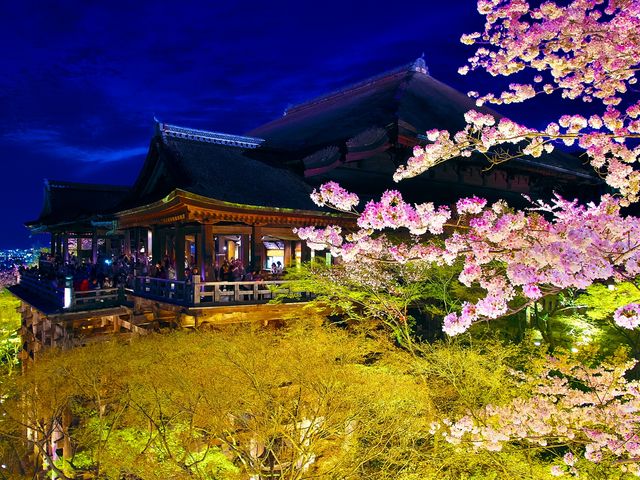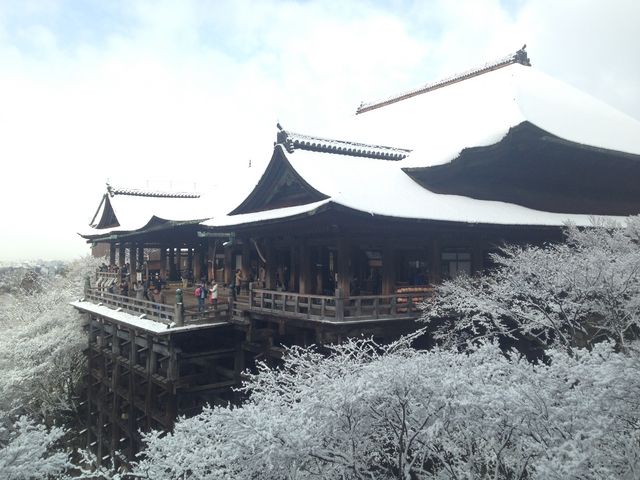 Kiyomizu-dera Temple was listed as one of the the 17 Historic Monuments of Ancient Kyoto, a 1994 UNESCO World Heritage Site. In Japanese, fully dedicating oneself to a decision is known as being "ready to dive off the Kiyomizu-no-butai(stage)." The pillars of the Kiyomizu-no-butai stage mentioned in this idiom are assembled without the use of a single nail. Made from Japanese cypress, the stage has been used for performances such as traditional Japanese music, Noh, kyogen and sumo wrestling dedicated to the Bodhisattva worshiped at the temple. As tall as a modern four-story building, it offers an excellent view of the streets of Kyoto. Wholly new kinds of beauty are also visible during the seasons of the cherry blossom and the autumn leaves. This is one spot that is worth visiting time after time.
Kiyomizu-dera Temple is great at any time of the year. Cherry blossoms in the spring, autumn colors in the fall.
There are many things to see, and features like the Otowa-no-taki are amazing both noon and night (when it is lit up).
Kiyomizu-dera Temple is a temple in Kiyomizu, Higashiyama-ku, Kyoto. This mountain is called Otowayama. The principle idol of the temple is the Senju-Kannon, and the temple itself was constructed (founded) by the priest Enchin. It was originally affiliated with the Hosso sect of Buddhism, but its present custodians call it the head temple of the Kitahosso sect of Buddhism. It is the 16th stop on the Saigoku Kannon Pilgrimage of 33 Buddhist temples in Kansai.
Kinkaku-ji Temple
Kyoto>Gion, Higashiyama, Around KitaShirakawa
Address:

1 Kinkakuji-cho, Kita-ku, Kyoto-shi, Kyoto

MAP
Traffic access:

From JR Kyoto Station, go to the bus terminal and take Bus 101 at Stand B2 (bound for Nijo Castle, Kitano Tenmangu, Kinkaku-ji Temple). Get off at the 13th stop, Kinkaku-ji-michi (approximately a 40 minute ride). Another option is to take Bus 205 at Stand B3 (bound for Kinkaku-ji Temple and Kitaoji Bus Terminal) and get off at the 21st stop, Kinkaku-ji-michi (approximately a 35 minute ride).
Business Hours:

9:00am-5:00pm
*Open year round *Hours may vary for special events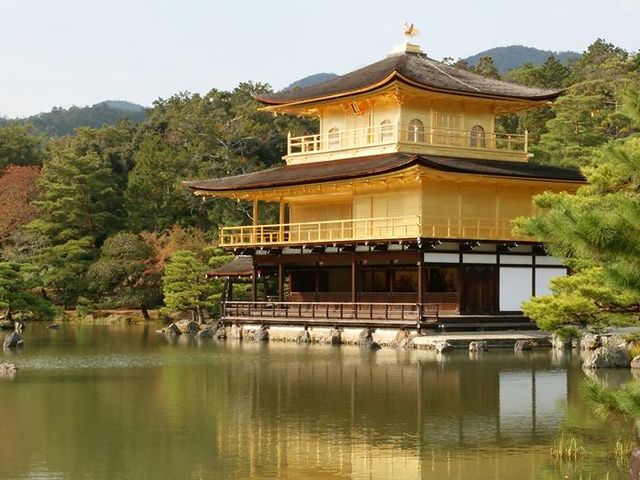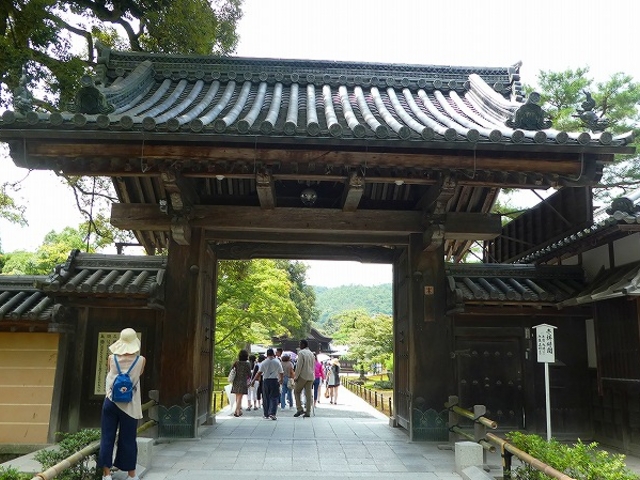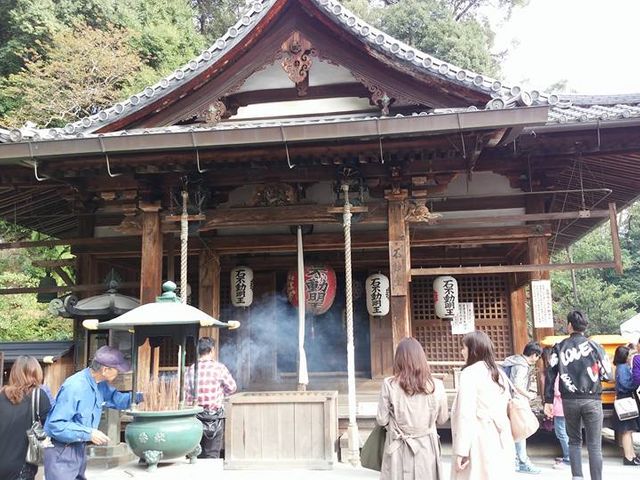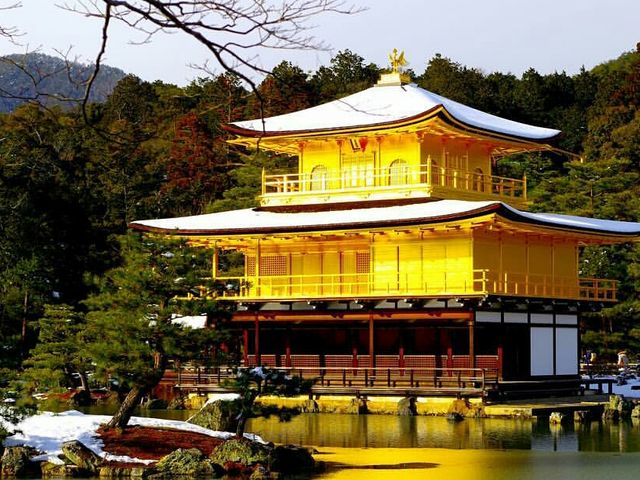 Its official name is "Rokuon-ji Temple." It is called Kinkaku-ji Temple ("Golden Pavilion Temple") because of the gold plated shrine built to worship the bones of the Buddha. Each of the pavilion's three levels is built in a different style. The first level is Shinden (Heian palace) style, the second is Buke (samurai residence) style, and the third is in the style of a Buddhist temple. These three styles have been beautifully combined in magnificent harmony. The temple's gardens and architecture are also supposed to be an earthly representation of Sukhavati, the Buddhist paradise. The reflection of the temple in Kyoko-chi Pond is also beautiful, and has a different atmosphere when the autumn leaves have changed color or snow has fallen. The temple is also registered as a World Cultural Heritage. Why not come experience this majestic Buddhist world?
Kinkaku-ji Temple is beautiful no matter how many times you visit.
I'm so impressed by the gold, it looks so refined!
The pond and building are well balanced. The surrounding area is also wonderful!
Fushimi Inari Taisha Shrine
Kyoto>Around Kyoto Station
Address:

68 Fukakusayabunouchi-cho, Fushimi-ku, Kyoto-shi, Kyoto

MAP
Traffic access:

[TRAIN] Quick walk from Inari Station, JR Nara Line (5 minutes from Kyoto Station) / Walk east for 5 minutes from Fushimi Inari Station, Keihan Main Line [CITY BUS] Walk east for 7 minutes from Inari Taisha-mae Bus Stop, Minami 5 [CAR] Approx. 20 minutes from Kyoto Minami Interchange, Meishin Expressway / Approx. 10 minutes from Kamitoba Exit, Hanshin Expressway
Business Hours:

Open for visitation 24 hours; office open 8:30 am-4:30 pm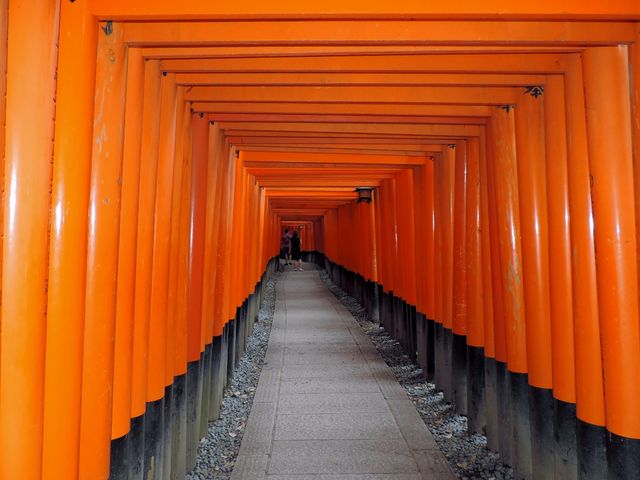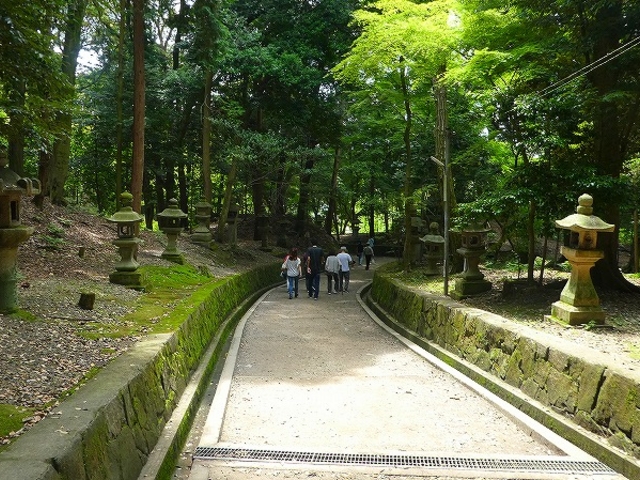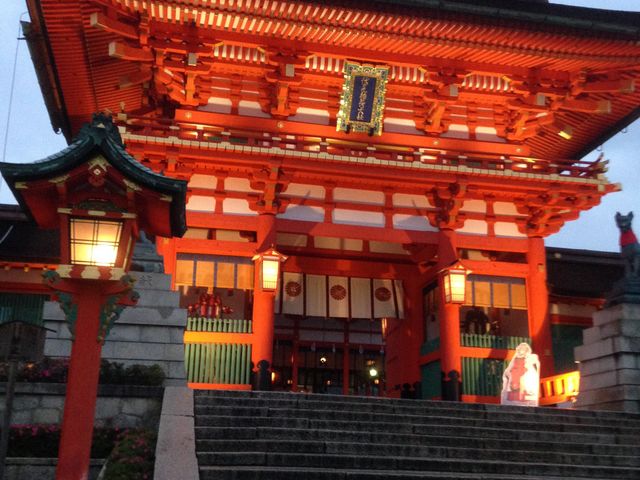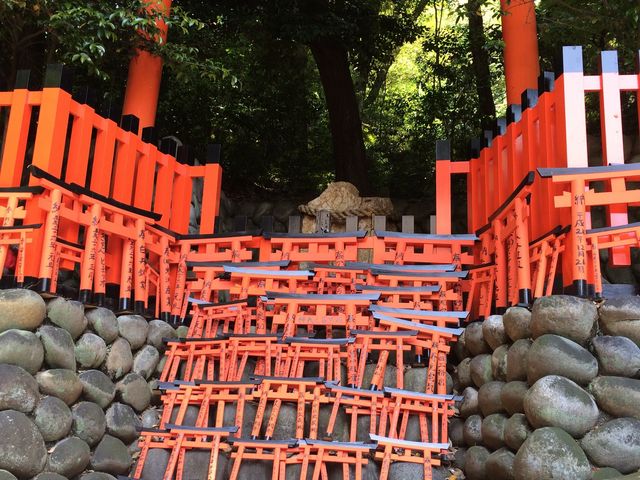 Headquarters shrine for the 30,000 Inari shrines in Japan. Inari shrines are popular with the common people. During New Year's, this is the most popular shrine in the Kinki Region attracting the highest number of worshippers. It has a very large following. The "1000 Toriis" is a tunnel of numerous vermillion torii gates along the main shrine path. A mystical and other-worldly space popular with visitors. Although it takes a while to go up through the torii gates, the summit is a solemn and magnificent spot.
Walking through the Thousand Torii Gates was great; the vermilion was beautiful! It's also fun to try out the heavy/light stones to see if your wish will come true. There's also a lot of different souvenir shops!
Shinsaibashi
Osaka>Shinsaibashi, Nanba, Yotsubashi
Address:

1~2 Chome, Shinsaibashisuji, Chuo-ku, Osaka-shi, Osaka

MAP
Traffic access:

◆ SUBWAY: From Umeda: Take the subway Midosuji Line from Umeda to Shinsaibashi; Approx. 6 minutes / From Yodoyabashi: Take the subway Midosuji Line from Yodoyabashi to Shinsaibashi; Approx. 3 minutes / From Namba: Take the subway Midosuji Line from Namba to Shinsaibashi; Approx. 2 minutes. ◆ NEW KANSAI INTERNATIONAL AIRPORT: Approx. 35 minutes to Nankai Namba Station on the Nankai Airport Line Rapi:t / Approx. 50 minutes to OCAT (Namba) on limousine bus / From Namba: take the subway Midosuji Line to Shinsaibashi; Approx. 2 minutes ◆ OSAKA INTERNATIONAL AIRPORT (ITAMI AIRPORT): Approx. 40 minutes on the Osaka International Airport bus (alight at Namba or OCAT) / From Namba: Take the subway Midosuji Line to Shinsaibashi; Approx. 2 minutes ※ For information on limousine bus services, please visit the service company's website
Business Hours:

Varies based on location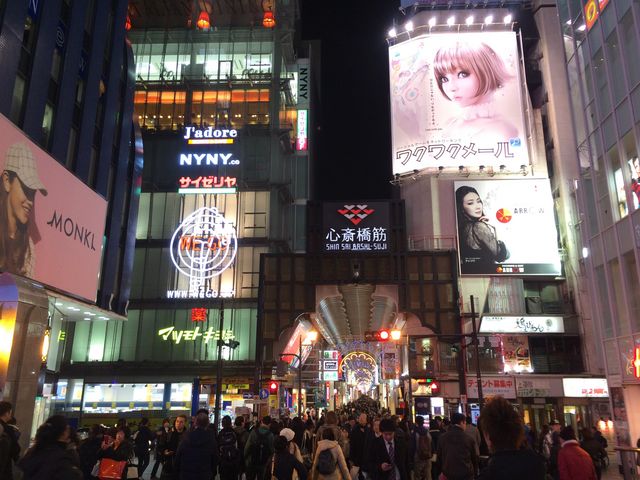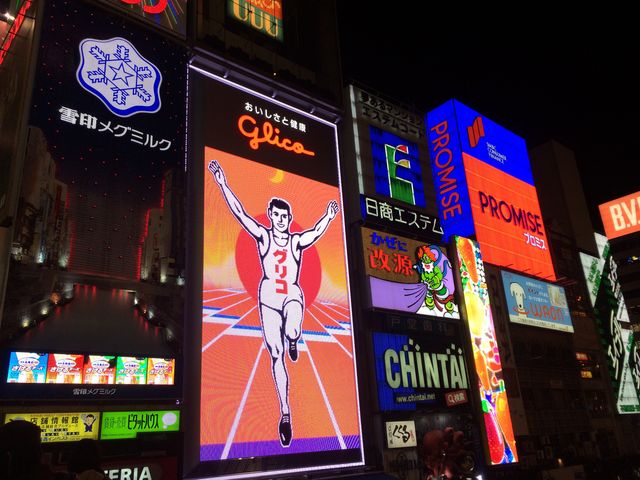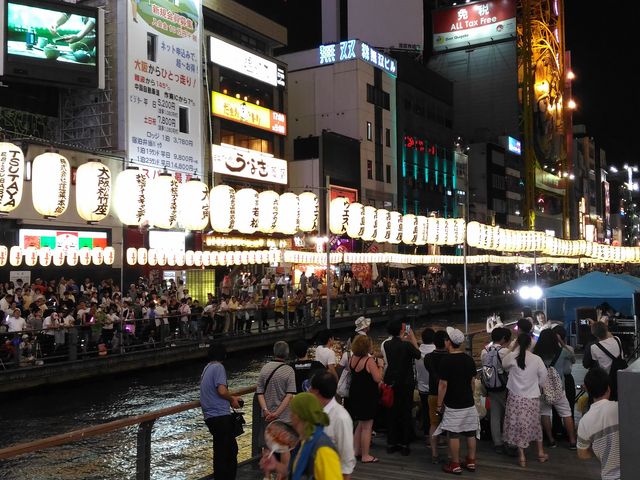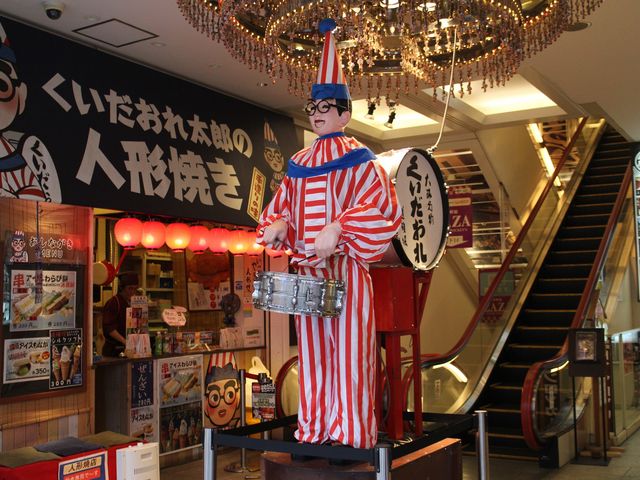 Shinsaibashi is in Osaka's entertainment district normally called "Minami." Centering on Shinsaibashi-suji Shopping Street on the east side of Midosuji road, there are department stores, specialty shops, luxury brand shops, etc., that attract many people. The area is great for shopping, dining, and as a sightseeing base. When in Osaka, we walk and eat. Since there's lots of great food in Osaka, it's fun to walk along the eateries from end to end. Since the shopping street holds many special events each season, there's always something to look forward to. Also, you should visit Tsutenkaku, this area's symbol and landmark. Feel Osaka's energy!
Clothes and shoes are really cheap! I bought tons!!
I was amazed at how many places to eat there were at night!
I went to so many restaurants and ate so much I could hardly move.
Todai-ji Temple
Nara>Nara, Ikaruga, Tenri
Address:

406-1 Zoshicho, Nara-shi, Nara

MAP
Traffic access:

From Nara Station on the JR Yamato Line/Kintetsu Nara Line, take the city bus to the Daibutsuden Kasuga Taishi Mae stop and walk 5 minutes, or walk 20 minutes from Kintetsu Nara Station.
Business Hours:

Visiting Hours: April-September 7:30am-5:30pm
Visiting Hours: October 7:30am-5:00pm
Visiting Hours: November-February 8:00am-4:30pm
Visiting Hours: March 8:00am-5:00pm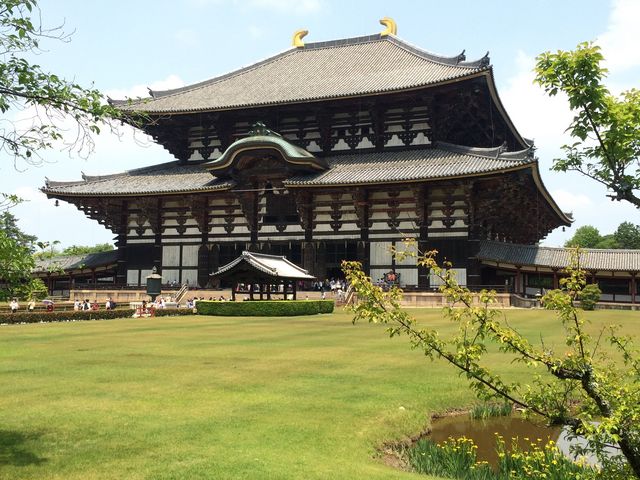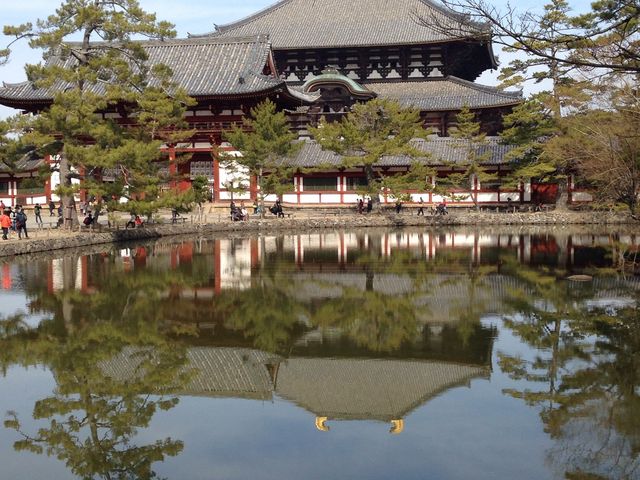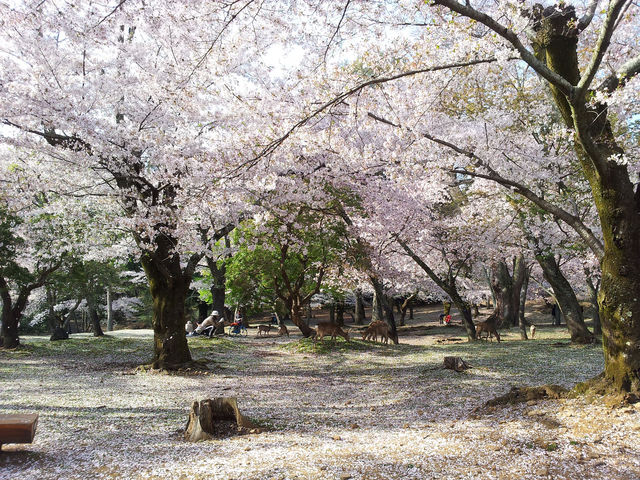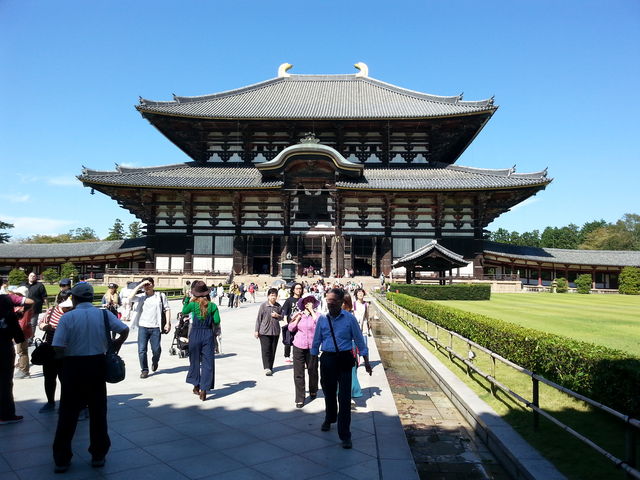 Dating from the Nara Period, Todai-ji Temple is Nara's most famous temple, home of the Giant Buddha (Daibutsu). The main path to the temple is lined with souvenir shops. Lots of deer also greet you. Designated as a National Natural Monument, the deer is the god's messenger. The Giant Buddha Hall is the world's largest wooden building. The Giant Buddha is about 15 meters high. The size is really awesome. Many of the temple structures were rebuilt in the Edo Period. The temple is part of the "Historic Monuments of Ancient Nara" World Heritage Site. You can also learn more by joining Buddhist lectures, seeing special events, copying sutras by hand, and drawing Buddhist pictures.
This is the world's largest existing wooden building. It features a 15-meter high statue of Buddha, a calm and peace exterior, and thousands of years of history are held within its construction. No one knows how many followers and tourists have visited throughout the years, but it is very highly praised!
Nara Park
Nara>Nara, Ikaruga, Tenri
Address:

543 Shibatsuji-cho, Nara-shi, Nara

MAP
Traffic access:

About a 5-minute walk from Kintetsu Nara Station / About a 20-minute walk from JR Nara Station
Business Hours:

24 hours a day/365 days a year, always free and available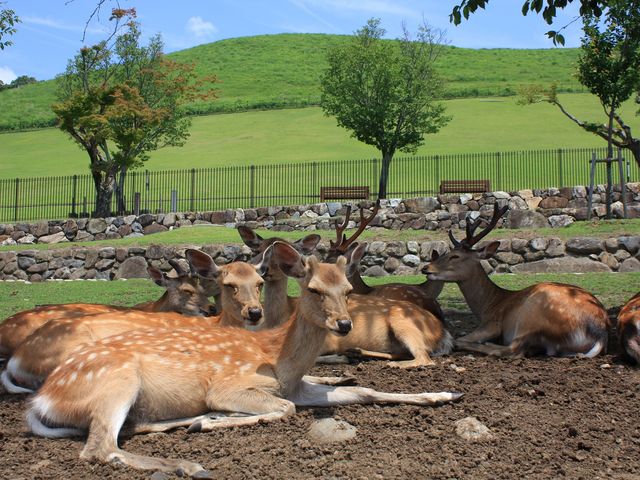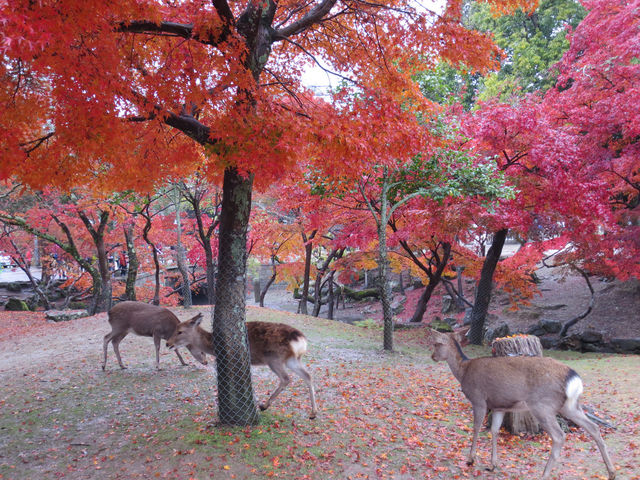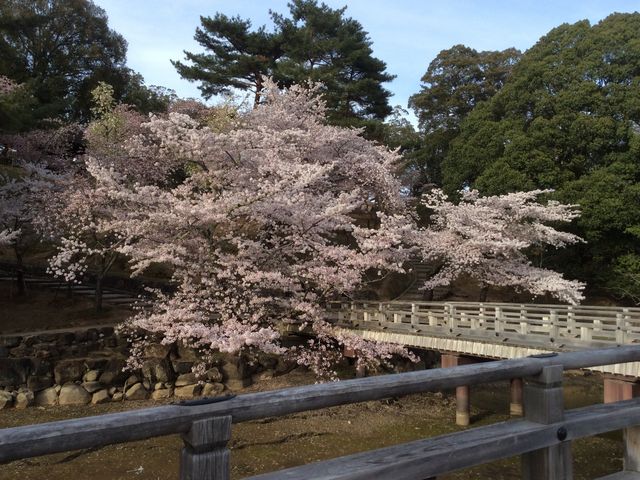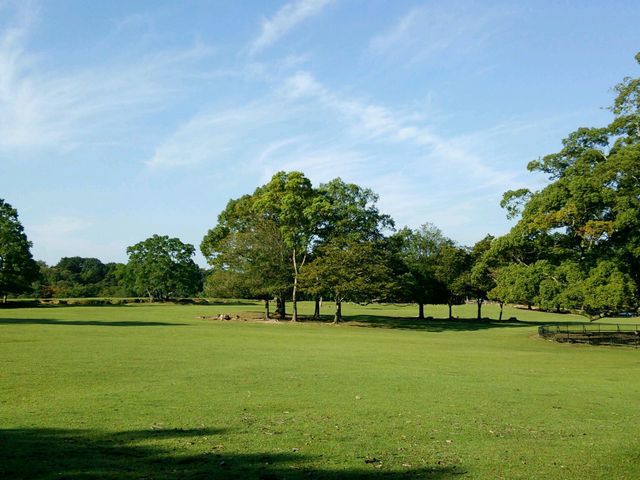 A city park that covers a vast area of 660 hectares. This attractive spot is covered in beautiful lawns and 1,000-year-old pine trees and is also home to some 1,000 head of deer—which are regarded as messengers of the gods—playing in groups. The vast park is full of sightseeing spots, from the eastern area of Nara City, Todai-ji Temple, Kasuga-taisha, and the extensive precincts of Kofukuji Temple, to the dense primeval forests of Kasuga Okuyama. The natural beauty of the park's magnificent, rich greenery surrounds and brings together various sites including Todai-ji Temple, with its invaluable historical cultural heritage; Kofukuji Temple; Kasuga-taisha; the cultural facility of Nara National Museum; and the Shosoin treasure house of Todai-ji Temple. The park has a long history and appeared in the Manyoshu, the oldest existing collection of Japanese poetry. We invite you to come and feel the passage of history and the spacious and majestic sense of scale offered by this site.
There are deer all over the place. Being able to get right up next to the deer without even trying is a lot of fun just by itself.
But, sometimes when the younger deer are nearby their parents will come to protect them. Be sure to watch out.
Shinjuku Gyoen National Garden
Tokyo>Shinjuku, Nakano, Suginami, Kichijoji
Address:

11 Naitomachi, Shinjuku-ku, Tokyo

MAP
Traffic access:

A 5-minute walk from Shinjuku-gyoemmae Station.
Business Hours:

9:00am-4:00pm (4:30pm close) ■Greenhouse 9:30am-3:30pm (4:00pm close) ■Restaurant Yurinoki, Cafe Hananoki 9:00am-4:00pm ■Tearoom 10:00am-4:00pm (May be closed under certain circumstances) ■Information Center (Art Gallery) 9:00am-4:30pm ■Walking Path 9:00am-4:30pm
[Special Event Period (Open Throughout)] March 25-April 24, November 1-15 *Opening times may occasionally be extended
[Closed Dates] Every Monday (If a holiday event falls on a Monday, facility will be closed the day after), New Year's Holiday (December 29-January 3)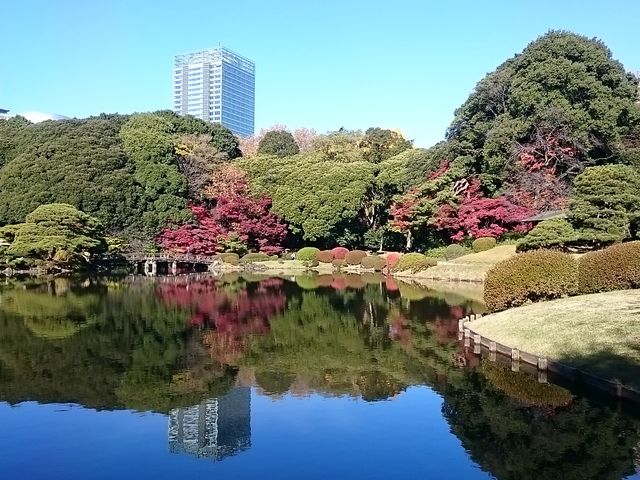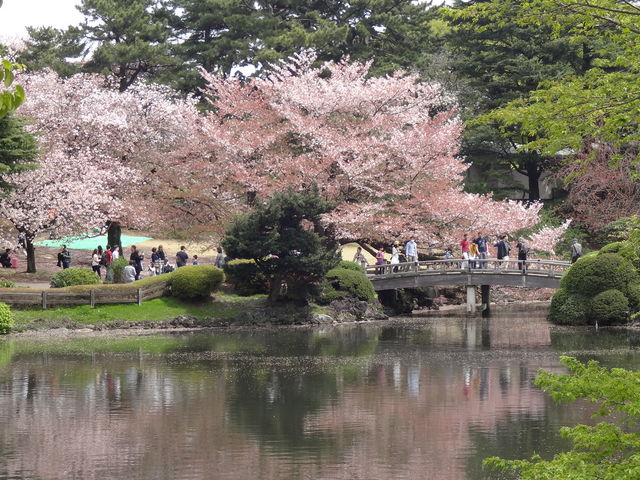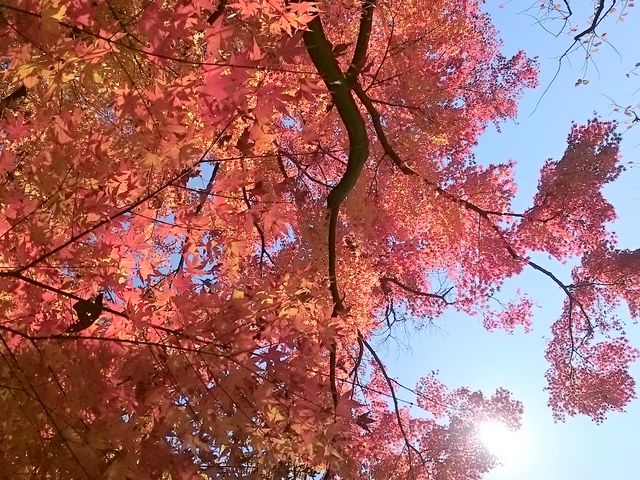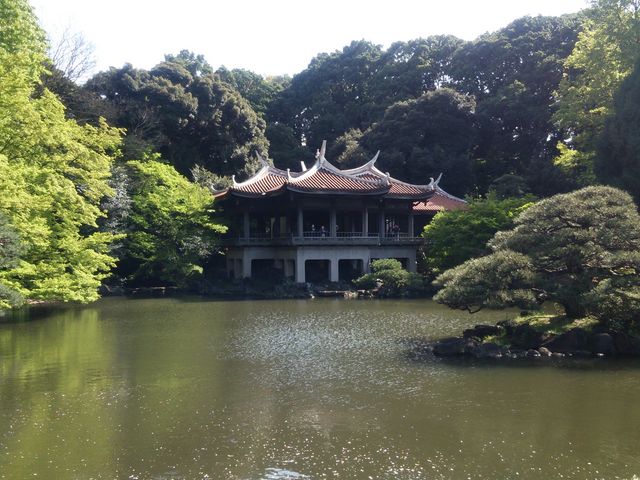 A popular spot visited by many, this park in the center of the city can be found to the northwest of Meiji Jingu Shrine Gaien(Outer Precinct). Although first made as a garden for the Imperial household, following WWII it became a public park open to all. It features a French formal garden with beautiful bilateral symmetry, a British scenic garden in which giant trees maintaining the nature evoke an sense of freedom, and a Japanese garden with a path around a gently-flowing pond. With Tamamo Pond, which features traces of historical buildings and Edo-period estates, as well as approx. 10,000 trees and flowering plants, you can spend a relaxing time here while enjoying the natural scenery through every season.
It's a really large park in the middle of Tokyo that is well kept and the entrance fee is reasonable. It's packed during cherry blossom season or when the leaves turn color in the fall, but at other times of the year it's not too crowded. My favorite time is at the end of fall just before winter when it's nice and quiet.
Miyajima (Itsukushima Shrine)
Hiroshima>Hiroshima, Miyajima
Address:

1-1 Miyajima-cho, Hatsukaichi-shi, Hiroshima

MAP
Traffic access:

Take the ferry to Miyajima from Hiroden-miyajima-guchi Station, JR Miyajimaguchi Station (about 10 minutes)
Business Hours:

January 1, 0:00am-6:30pm; January 2-3, 6:30am-6:30pm; January 4-End of February, 6:30am-5:30pm; March 1-October 14, 6:30am-6:00pm; October 15-November 30, 6:30am-5:30pm; December 1-December 31, 6:30am-5:00pm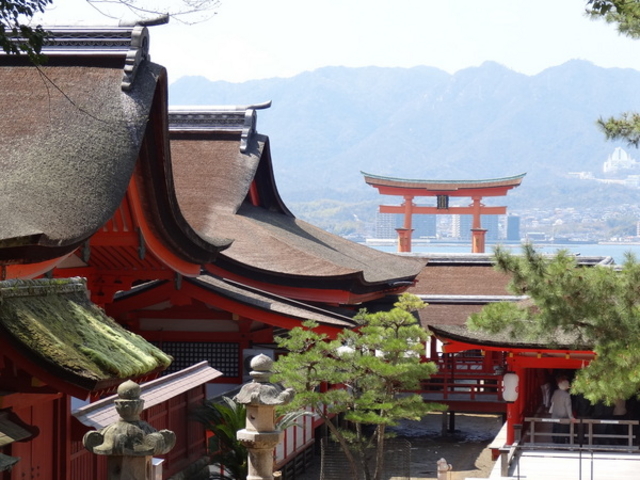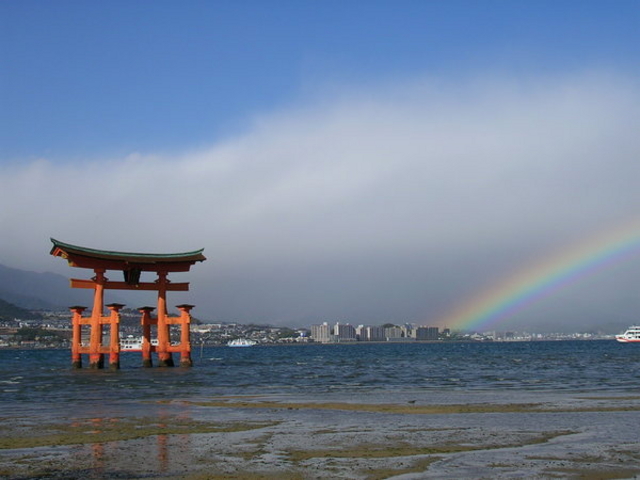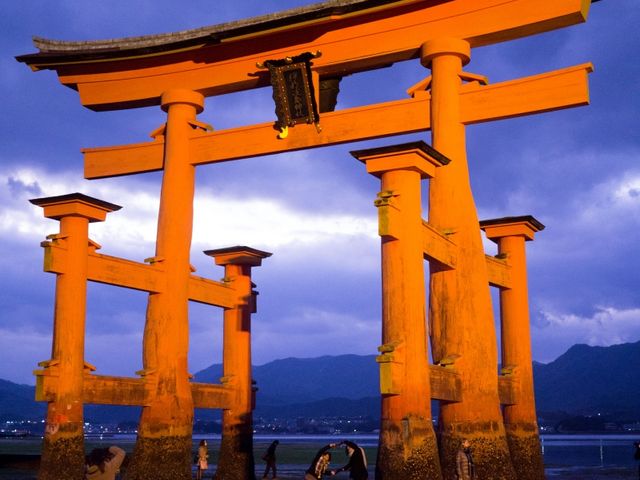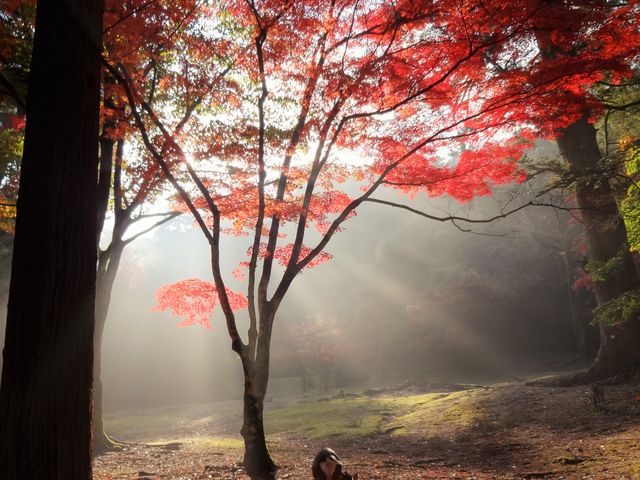 Miyajima is a sacred island long believed to be where the gods dwell. Many structures are also part of a World Heritage Site. One of the most beautiful buildings is Itsukushima Shrine, Japan's only building that stands on the ocean where the tide rises and falls. Its magnificent appearance is breathtaking. At high tide, the vermillion shrine building, connected by corridors, looks like it is floating on the ocean. The green Mt. Misen behind the shrine and the blue Seto Inland Sea make it a beautiful place. Be impressed by the dreamy history of 1,400+ years. The shrine is a National Treasure, Important Cultural Property, and UNESCO World Heritage Site.
The symbol of Miyajima! A must-see place. Just the torii in the ocean is unusual, but the scenery also changes along with the tide.
At ebb tide, you can walk near the torii. But be careful because your shoes will get muddy.
Guide to this page
*Reviews are prepared based on information from the Jalan Tourism Guide (https://www.jalan.net/kankou/) as of August 8th, 2017.
*Business hours, etc. may not be latest information. Please be sure to check for yourself in advance before visiting.